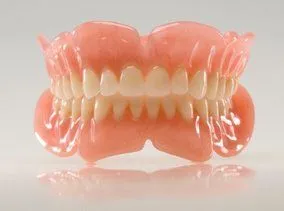 W ithout a full set of teeth, your oral health and appearance may decline.  One of the luxuries of life as we age, or anytime during our lifetime, includes the ability to chew and enjoy our food.  Without teeth, the ability to maintain a healthy diet can cause overall health issues. Speaking also may become difficult, not to mention sagging facial muscles can make you look older.
When we are missing teeth we prompt remaining teeth to move out of place. The combination of these problems may also lead to increased airway issues. If you are missing many or all of your teeth, dentures may be a life changing treatment for you.
Dentures are a replacement for missing teeth that can be removed and put back into your mouth as you please. You have the potential to receive full, partial or implant dentures depending on what is best for your individual case. With the addition of implant dentures, at Rock Valley Dental, we can rehabilitate your mouth as if you had your natural teeth again.
Full dentures are used when all of the natural teeth are removed from the mouth and replaced with a full set of dentures. There are two types of full dentures.
Conventional Full Dentures - This is when all the teeth are removed and the tissue is given time to heal before the dentures are placed. It could take a few months for the gum tissue to heal completely, and during this time you will be without teeth.


Immediate Full Dentures - Prior to having your teeth removed, your dentist takes measurements and has dentures fitted for your mouth. After removing the teeth, the dentures are immediately placed in your mouth. The benefit is that you do not have to spend any time without teeth. You will, however, need to have a follow up visit to refit your dentures because the jaw bone will slightly change shape as your mouth heels. For ideal outcomes a new set of dentures are fabricated after the healing process is complete.


Partial Dentures are another option when not all of your teeth need to be removed. This is similar to a bridge, but it is not a permanent fixture in your mouth. Partials usually attach to neighboring teeth with inconspicuous clasps. The artificial teeth in a partial will be designed using impressions of your teeth and employing lifelike materials. Partials will help with the misalignment that often accompanies tooth loss, keeping your smile healthy.


With Implant Dentures, your denture can snap into small posts anchored in teeth sockets called implants. You will not need adhesive to hold the denture in place and implant dentures reduce the risk of slippage when eating or speaking. Implant dentures provide a more solid, reliable and attractive option. If you truly want to function and eat normally and have more confidence, implant dentures, either fixed or removable, is the option that will provide you with the most satisfactory results.
If you are interested in receiving dentures, please schedule an appointment at Rock Valley Dental and we will be happy to help discuss what type of denture is right for you.
Implant Denture Video Click Here