Empowering You to Develop and Maintain a Happy Healthy Smile!
Thank you for visiting the website of Rock Valley Dental, a distinguished dental care provider conveniently located in Rock Valley, Iowa. Dr. Koth, Dr. Meyer and their highly qualified staff provide Modern, Comprehensive Dentistry that is informative, patient centered, and integrative.
Rock Valley Dental is dedicated to creating a comfortable, positive dental experience for patients of all ages. Committed to lifelong learning, their goal is to provide you with the highest level of dental health and excellence based on the latest research in dentistry. Whatever your concern, you can be assured, Dr. Koth, Meyer, and Blankespoor along with their staff will work tirelessly to provide you with a perfect smile and a lifetime of excellent oral health.
---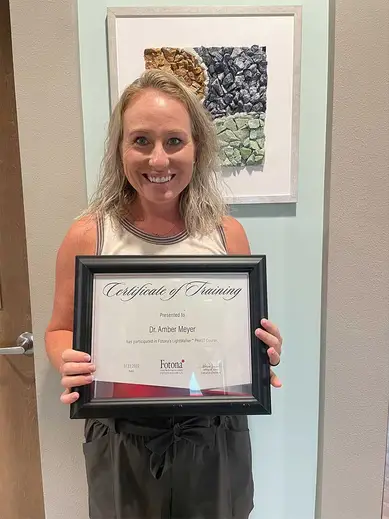 BIG NEWS: Dr. Amber has completed her advanced training on our latest new technology for the office, the Fotona Laser. Fotona is an advanced new dental laser technology that is virtually replacing the needle, drill, and scalpel in the dental office!!!! Did you hear that!! What does this mean…..
Treatment Virtually Free Of The Needle And The Sound Of The Drill -for most procedures including filling cavities! With Fotona, there's no need to feel anxious anymore. The dental laser is quiet, reliably free of the needle, drill, blood, and pain and for the majority of procedures you won't have to worry about waiting for anesthetic to set in.
Treatment is Quick, Easy, And Done In A Single Visit. Because of how fast Fotona works, most procedures can be completed in just minutes
It gets better…..
Fotona Therapy has amazing options For Snoring and sleep disordered breathing. At our office, Dr. Koth, our diplomate in sleep medicine is qualified to treat the oral airway in a procedure called Nightlase.
NightLase® therapy is a non-invasive, patient-friendly laser treatment for increasing the quality of a patient's sleep. NightLase reduces the effects of sleep apnea and decreases the amplitude of snoring by means of a gentle, laser-induced tightening effect caused by the contraction of collagen in the throat, tongue, and surrounding tissues. It can be completed in a normal office visit and is a great choice for anyone struggling with sleep, or even those who want to prove athletic performance or Vo2 max, as sleep and oxygen utilization has been proven as one of the most important factors in sports recovery.
Listen up Ladies. This laser also allows cosmetic facial collagen firming which Dr. Amber is qualified to perform right here in our office.
As always You can count on Rock Valley Dental to bring you the most up to date and researched treatments. We are so proud of our providers!
---


CURRENTLY ACCEPTING NEW PATIENTS



Call today to book your appointment

712-476-2749.